"This is a fundraiser to the benefit of cancer research. All in the name of rock! We are proud to be part of this important project together with some really talented and generous people. Everyone contribute for free to make a difference. Cancer is something that affects us all. We're in this together. You can be too. Show your support by getting a copy of the song and join us in spreading the message to others."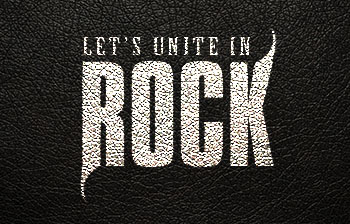 Go HERE to contribute. You decide the amount. Boost your karma and get a copy of LET'S UNITE IN ROCK!
"If you have some good ideas and want to be a part of making this a success, please feel very welcome to get in touch."
"The first seeds for this project were planted 2011 in collaboration with Richard Ofsoski, the founder of Metal For Cancer. The idea was to produce a charity song for an All Star lineup to the benefit of cancer research. A fine collective of well-known rock artists teamed up to record the song Let's Unite in Rock. Everyone involved contributed for free and 100% of the money was donated to the AUSTRALIAN CANCER RESEARCH FOUNDATION.
5 years passed and the Metal For Cancer organization started to feel increasingly discouraged by the fact that it's tough to sell music in this new millennium. As their activity declined we felt a responsibility towards everyone that had contributed and decided to give the song a second chance. Our experience tells us that people are indeed interested in supporting music and a good cause. We hope to prove this true together with everyone that agree with us. The only difference compared to before is that the project now resides here at Dark Minstrel Music. 100% of the money is still being donated to cancer research."
SINGERS:
Mats Leven (Candlemass, Therion, Yngwie Malmsteen)
Snowy Shaw (Therion, Mercyful Fate, Dream Evil)
Tony Kakko (Sonata Arctica, Northern Kings)
Apollo Papathanasio (Evil Masquerade, Spiritual Beggars)
Tony Mills (TNT, Shy)
Silvio Massaro (Vanishing Point)
Richard Ofsoski (Ofsoski, Sedition)
Henrik Flyman (Evil Masquerade, Lacrimosa)
Lance King (Avian, Pyramaze)
Dagfinn Joensen (Fate)
THE BAND:
Henrik Flyman – guitar (Evil Masquerade, Lacrimosa)
Peter Wildoer – drums (James LaBrie, Darkane, Arch Enemy)
Thor Jeppesen – bass (Evil Masquerade)
Artur Meinild – keyboard (Evil Masquerade)
LEAD GUITARISTS:
Glen Drover (Megadeth, Testament, Eidolon)
Henrik Flyman (Evil Masquerade)
Stu Marshall (Death Dealer)
MIXED AND MASTERED BY:
Jacob Hansen
Hansen Studios
COMPOSED AND PRODUCED BY:
Henrik Flyman
COVER ARTIST:
Barbara Ahearn
VIDEO:
Thomas Trane
Crazy Trane Productions
EXECUTIVE PRODUCER:
Dark Minstrel Music